<![if !vml]>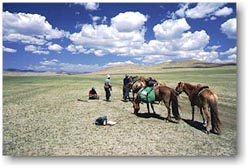 <![endif]>Imagine a country of wide open spaces where nomadic herders tend their animals on seas of emerald green grass; herds of camels wander the Gobi desert; eagles soar high above majestic peaks in the Altai mountains.

Welcome to Mongolia - a land whose people created the largest land empire the world has seen, yet today remains largely undiscovered by the international traveller.

Karakorum Expeditions invites you to join us for the experience of a lifetime as we share the unique culture and natural beauty of this land. Our trips are as rugged or relaxed as you like and will appeal to those who not only want to see the scenery, but also feel and be an active part of this amazing place. Be it by mountain bike, on horseback, on foot or by jeep we take you to exciting destinations on journeys that will bring you closest to nature and the local people. Our travel itineraries are carefully prepared to give you the most rewarding experience of Mongolia - with lots of fun along the way!
Surf around our site to learn more about Mongolia and what Karakorum Expeditions can offer you. Please don't hesitate to hit the 'Contact Us' button for further information.
Active Adventures

<![if !vml]>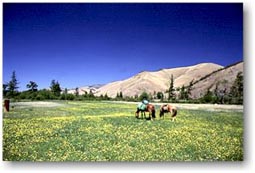 <![endif]>Many tour operators pack their visitors into a jeep or bus for a journey of jarring discomfort. Facts are that in this country, roads are bad, distances are great, and 'sights to see' few and far between.

To us, Active Adventures means being part of the scene, breathing the air, meeting the people and taking every opportunity to participate in unexpected happenings along the way: The unplanned things, the bits that weren't typed into an itinerary, the people and action en route are what we believe make the difference between a good holiday and a great adventure!
Karakorum Expeditions aims to match activities and locations to produce a great experience - no two are the same but all share the common themes of safety, adventure, fun and commitment from our staff.
This is not to say that our holidays are only for ultra-endurance sportsmen and women. We offer a range of itineraries to suit all interests and levels of fitness. In fact, we place more emphasis on time with the local people than burning up the miles.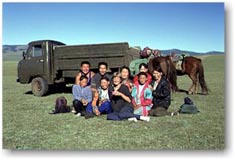 With our head office in downtown Ulaanbaatar we're in the heart of the action and ready to help with your inquiries. Our team of Mongolian, Australian and American staff are busy planning, running and researching new trips all year round. When not on the job, you can usually find at least one of us on a river, up a mountain, or drinking airag in a herder's ger! Our full-time staff is complemented by a fantastic team of herders, park rangers and drivers, spread throughout the country, who provide their local knowledge and skills to make every trip special. By training local people and involving them in a Karakorum Expedition we do our best to contribute to the local communities where our trips go.
Introducing the team
Graham Taylor, Principal.
Graham founded Karakorum Expeditions in 1997 at the completion of a 1,200-mile horse trek through central <![if !vml]>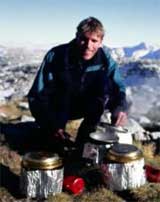 <![endif]>Mongolia sponsored by the Australian Geographical Society. Graham is no newcomer to adventure and brings many years' experience as a cyclist, canoeist, mountaineer and adventurer. You will find more about his personal adventures in Mongolia at (www.mongoliadreaming.com). A Mechanical Engineer by profession, he is our lead trekking guide (not to mention our vegetarian menus…!)
The Team
Drivers, cooks, guides, assistants - well, all together there are 50 of us that come together to make Karakorum Expeditions! So without going into names please enjoy the photos below from recent trips. We look forward to being of service.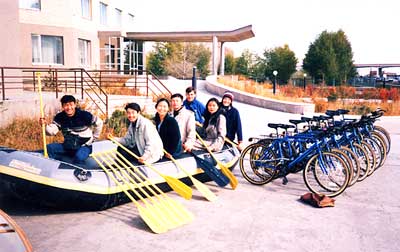 Dry rafting in front of our office at the Grand Hotel.
(buoancy vests not required)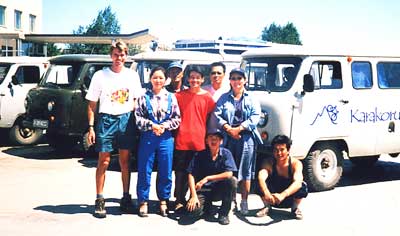 Support team for scout camping trip
(Graham Taylor is 6'3")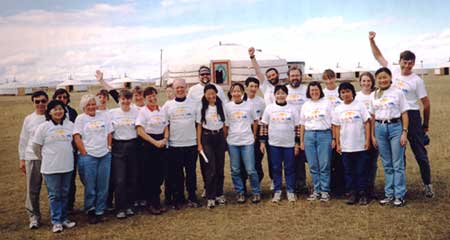 Hashing on the steppe - Nash Hash Mongolia 1999